Infrastructure
We, Nature Rice Industry offers Aromatic Indian Basmati Rice that is counted in the market for its purity and great taste. Our non-sticky Indian Basmati Rice offers great taste and good health as it is easy to digest. Precise moisture content ensures perfect fluffiness after cooking. And when it comes to aroma, our Indian Sella Basmati Rice is just unbeatable. It is highly appreciated for long grain and lingering aroma. Thus, it can be used for preparing a wide range of cuisines. No chemicals have been used as we maintain zero tolerance against chemicals. Each grain of rice reflects our ability to bring forth high quality product for the customers. Various types of packaging is done to lock the aroma of the product.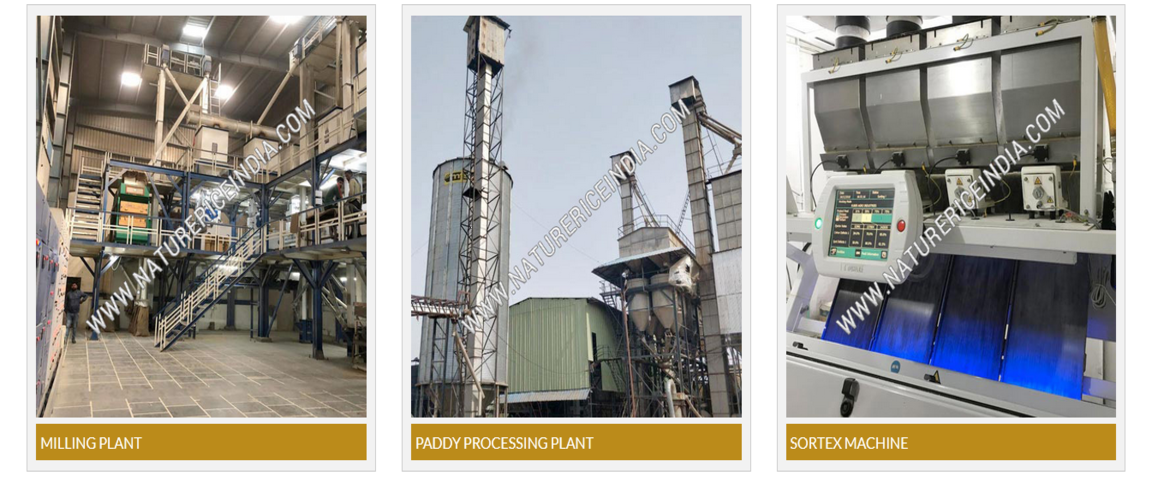 .
To get the most sought-after varieties of Rice, Nature Rice recognizes Plants with the state -of -Art having sound facilities for Rice Milling, Processing & Packaging Plant that ensures transition of Paddy to Fully Packed Rice untouched by Human Hands. The machineries are latest and imported from the renowned manufacturers across the world. There is full fledge sophisticated Milling & Sortex Plants armed with the hi-tech facilities adopted with latest technology for the parboiling process which uses reverse Osmosis water to maintain the natural aroma and taste of Rice to its maximum that enables in processing and serving the desired quality of rice to the clients.
Rice Plant machineries can be marked as -
Milling & Sortex Plant of Buhler
Rice Pre Cleaning System of Schmidt-Seegar& Fowler Westrub, Germany
Sortex Plant of SATAKE
Packaging and Auto Sealing machines
Quality Control
With utmost prolificity our infrastructure includes lab equipment such as Color Sortex Machine, Rice Moisture Tester, Rice Kett Tester and Vernier Scale for Length. We clean our warehousing area regular to maintain hygienic environment for Pusa Basmati Rice, Muzza Basmati Rice, Sugandha Parboiled Rice, Extra Long Grain Sella Basmati Rice, etc. Our sourcing experts procure the best paddy from the standardized & certified sources from Haryana, Punjab, UP and Uttaranchal. Only after certain tests, our range is packed for final shipment.
Quality is never compromised by Nature Rice at any cost, so to ensure the qualitative delivery of the product all operations such as: Milling, Processing, Packing, Stuffing, Fumigation etc. are carried out in house before exports. Hygiene standards are followed from production till packaging. Best paddy is extracted from the certified and standardized sources, which are eminent for their excellence. Healthy paddy is processed to make rice which is cultivated in states of Haryana, Punjab, Uttaranchal and UP after intensive quality check to make sure the output of the product is of high and best quality standards. Also, after Milling of the Product, Rice quality is ensured in In-House Lab for correct Moisture Standards for best Healthy paddy is processed to make rice which is cultivated in states of Haryana, Punjab, Uttaranchal cooking Result, Purity and Grading of Rice is checked with required Kett parameters for client. Cooking Results are also checked before packing the Goods and delivering to its clients. This is the reason or customers are always happy and satisfied with our Product and services and believe in continuing their Business relationship with us for years and years.

Export Shipment Activities
Based on different kinds & quantity of rice, we offer various packaging options to our customers. Our team of skilled packaging workers effectively provides suitable and hygienic packaging.
Packing categories : Our offered categories include Non-Woven Fabric, BOPP, Cartons, Pet Jars, HDPE or Poly Plastic Pouches that are simple 2 layered, 3 layered, with or without zipper or slider as per client requirements.
Packing under private labels: We are providing custom packaging for the customers to promote their own brand names. Our team of designers collect specific requirements from customers and provide them the suitable end results through Jute Bags, Non-Woven Fabric Bags, Pouch & Carton, PE-PP-BOPP-Vacuum Pack.
We offer various Packaging options in 1 Kg, 2 Kg, 5 Kg, 10 Kg, 20 Kg, 25 Kg, 40 Kg, 45 Kg, 50 Kg or in any other desired packing size as per client requirement. We do OEM packing (in Customized Private Labels) The Packing job is carried out in a very hygiene atmostphere with the help of automatic packing machines by skilled packers and workers.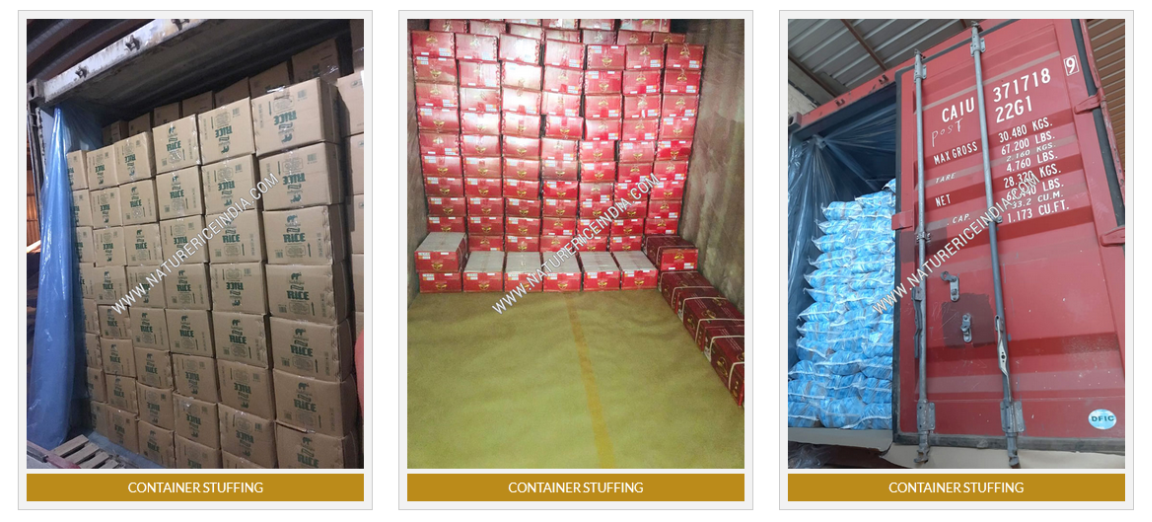 .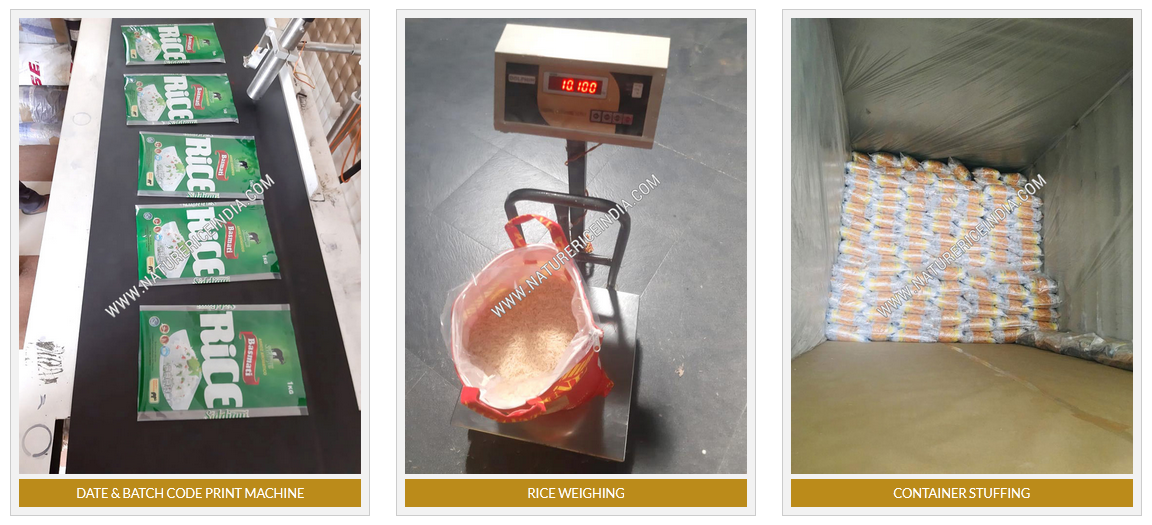 Rice Brands & Packaging
A well Trained, Skilled and Dedicated Team of People work with us who make sure all the hygiene standards are maintained at the time of packing. Packing Labours are trained and educated from time to time to make sure they are updated with latest information on Packing required to maintain with different consignments to various destinations. There are some preferred packing materials for safe and secure packaging of Rice as mentioned here below.
PP / PE Bag
Jute Bag
Non Woven Fabric Bag
HDPE / PolyPet Plastic/ BOPP Pouch or Bags
Pet Jars, Vaccum Packing, Box Packing
Box Packing
Packing Categories
We are providing various packing options. Rice is packed in different types of packing material fabricated of Jute, Non Woven Fabric, BOPP, HDPE or Poly Plastic Pouches(Simple 2Layered, 3Layered, 2D,3D, with or without zipper/Slider with D cut haldle or dori as per client requirment), Cartons, Pet Jars etc. Various Rice varieties like Sella Basmati Rice Premium quality, Steam Basmati Rice, Organic Basmati Rice, Brown Rice, Broken Basmati Rice etc. are available to pack in any of the packagings as desired by client.

Packing Under Private Labels
Today many clients prefer to get Rice packed under their own Brand names in Consumer Packing. We do allow Customized packing to enhance Buyer- Supplier relationship. Different Countries have different packing requirements according to weather conditions in their country or their End Consumer requirement. Many client take 30 – 40Kg packing as they sell to Hotels & Restaurants. But those customers who want to sell through Chain Stores and Super market prefer small packing. We do help our clients in getting the designs prepared and approved for their bags/ Packing material, only after which printing job is started. Various Packing materials that we are doing for Private Labels have been demonstrated though images to give an overview and understanding of the respective packaging.

.